Welcome to the new Earth Class Mail!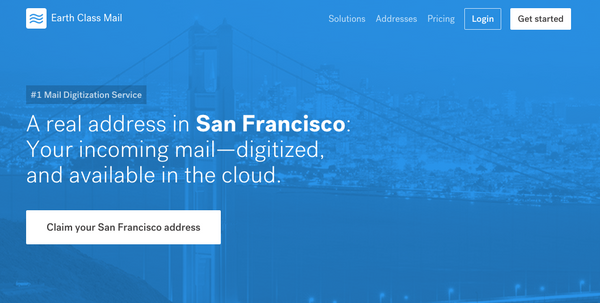 Hi, Doug Breaker here, new CEO of Earth Class Mail. A lot has changed at Earth Class Mail in the last few months and I wanted to take the time to share everything with you. Before I get into that, I want to say thank you to all our current customers. Your support over the years made Earth Class Mail what it is today and we're excited to continue providing you the fanatical level of service you've come to expect.
Here is a recap of the past few months:
The Earth Class Mail service you have come to know and love is now Earth Class Mail, Inc. This follows the swift completion of a Chapter 11 process which ended in June of this year. With this comes an influx of new team members, and new owners from Xenon Ventures. Xenon invests in cool tech teams and great companies–and contributes time, talent and experience to help businesses grow to their fullest potential. You may recognize some of the other Xenon companies – RightSignature.com, Filepicker.com, GetCloudApp.com and Followup.cc. What does this mean for you? A better product, more features, better support, and a better all around experience.
We're extremely excited to have Jonathan Siegel and Lew Moorman from Xenon advising and investing in us. Jonathan's a long-time Earth Class Mail customer, and a proven tech entrepreneur and investor. Lew brings over a decade of experience from his role as President of Rackspace. Both plan to offer heavy doses of guidance as we continue to craft Earth Class Mail into a company that serves you better.
I have joined the company as CEO. I've spent the last 6 1/2 years at HomeFinder.com, the last 4 as CEO. Why did I make the jump? I love helping businesses succeed, and find great joy in turning inefficient, error prone processes into elegant, foolproof products. Instead of feeling the pain of dealing with physical mail, we can give consumers and businesses moments of joy as we make the process easy, mistake-proof, and efficient.
We've updated our brand to better represent who we are, who we want to help, and how we'll do that. Check out our new website, follow us on Twitter, and like us on Facebook.
We've introduced a new help center (help.earthclassmail.com), upgraded our customer support tools and introduced better internal reporting so that we can keep a close eye on the level of service we provide customers.
New customers can choose from simplified pricing. Current customers keep their existing pricing, or can choose one of our new plans if they'd like.
You'll start to see improvements in how we support you, and in the value we offer you. We're committed to being a great partner, and will do whatever it takes to be that.
As you can see, it's been a busy few months!
Next, I'd like to talk about our commitment to you going forward. As a customer, you'll continue to receive the high level of service that you've come to expect from Earth Class Mail. We'll also be making many improvements in our product and service over the coming months. They won't happen immediately, but they will happen. Our team is hard at work making Earth Class Mail more valuable, more useful, and easier to use. If you have questions or feedback on how we can make your life easier, email me via doug at earthclassmail.com.
Finally, to show you how we're executing on our commitment to help make your life easier, I'm excited to to announce two new features that we've just finished putting the final touches on:
Cloud storage: This new feature allows you to send all your documents to Google Drive, Box.com, and Dropbox. Now it's a snap to get your physical mail stored in the same place as all your other documents. Read more >>
Full-text search support: Search through your physical mail as easily as you do your email. We run all mail through full OCR (Optical Character Recognition), which means you can search in the documents we deliver to you. Read more >>
I hope these new features save you a bit of time, and make things easier for you. I can't wait to see what the future holds for Earth Class Mail, and the value that we can provide to our customers. It's going to be a fun ride.