And we're back for round 3 of our journey into starting a profitable business online. To recap, I'm Doug, CEO here at Earth Class Mail.
So far we've talked about Step 1: the biggest mistake you can avoid, and Step 2: how to find profitable customers. Now let's dig in to the results with Step 3, evaluating your market demand test.
What's a Demand Test again?
Simply put, a demand test is an experiment you run to see if there is anyone in the market for your product or service.
It can take many shapes, but for our purposes we focused on setting up a simple lead funnel by buying ads on Google AdWords and pointing those users to a landing page with a lead form.
This type of test is great because:
You can simply buy exposure to users likely to be interested in your product, very inexpensively. That means you don't need to organically build an audience and you don't need to have a product, just a pitch.
You can use the landing pages to funnel users through the various value points of your product, from a high-level pitch down to pricing. That means you can gain insights into what exactly is drawing people in or turning them away.
Most importantly, it's really easy to setup. A focus group or even a basic functioning product are way more expensive and time consuming.
Step 3 – Did Any Customers Show Up?
Congratulations! If you've made it this far, you ran some ads to a landing page. Now let's dig in to the results.
To refresh your memory, we want to answer a few simple questions to better understand if our business idea will be a success:
Question: How many potential customers exist looking for a solution to this problem?
Answer: Ad impressions
Question: How well does your business solve the problem for potential customers?
Answer: Ad click-through-rate (CTR)
Question: How many potential customers can you get to your front door?
Answer: Ad clicks
Question: How many potential customers are interested in pricing for your product?
Answer: Landing page CTR
Question: How many potential customers indicated they would pay you money?
Answer: Pricing button clicks
Question: How many potential customers are ready to buy now?

Answer: Email leads collected
Question: Can your business be profitable? How profitable?
Answer: The metrics from your demand test will help build an initial forecast
Let's dive into our data to see what it tells us.
The very first question is probably the most important, how many potential customers exist looking for an answer to this problem?
In our test this data is easily accessible, and there's good news for the future of ClaimSender. Google AdWords shows that there are thousands of daily searches related to healthcare claim forms.
We dig in a bit more and find that our $50/day budget produced 48 clicks/day, with an average CPC of $1.08 (this data is for one day, but it's representative of the other days in our test).

Our limited keyword test produced a solid number of impressions. A bunch more search volume likely exists for a few reasons:
We set our daily budget at $50, and hit that somewhat early in the day.
Adwords budget alerts told us we could double our budget to get double the clicks at the same cost per click.
We can expand our keyword set to include other health care companies and more niche terms.

This is good news. It means we have plenty of room to grow through paid acquisition.
A quick trip to Google Trends tells us there's perhaps at least double the volume if we include other healthcare companies besides United and Aetna.
Adding Cigna alone would produce a lot more volume, and a bevy of others exist – Humana, Centene, HealthNet, WellCare, Molina, Magellan, etc.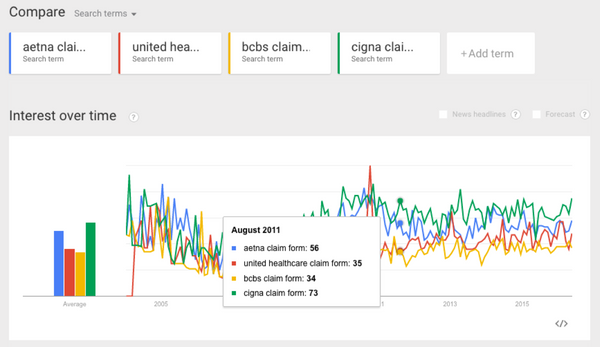 So the answer to our question is: "enough to keep learning". No red flags on this step, let's keep moving.
How well does your business solve the problem for potential customers?
I've seen click through rates from 0.01% up to 8% for AdWords campaigns. Our ads clocked in at a robust ~2.9%, a great result for a first attempt.
Hitting nearly 3% on our initial go shows that our ads appealed to people searching for a remedy to their health care claim filing pain.
We struck a nerve!
You can always improve on your first attempt, so the answer here is two strong thumbs up.
How many potential customers can you get to your front door?
Don't sugarcoat this number. Is it enough to support a business if we convert a reasonable percentage of tire-kickers into customers?
Our ads delivered ~50 clicks per day.
However, our budget and keyword set constrained us. If we cranked our budget up and expanded our keyword set to include other healthcare companies, we could likely make that 50 turn into 150-200 per day.
Pencil in a conversion rate of 0.5% – 2% (some rule of thumb averages, your mileage may vary) and you have your likely customers per day.
If we get 200 interested people to the site, and convert a handful to paying customers, will that be enough to build a business? Perhaps, but let's cover that in the spreadsheet section. Stay tuned.
How many potential customers showed interest in seeing how much your service cost?
Here's what they saw after clicking an ad and landing at http://try.claimsender.com/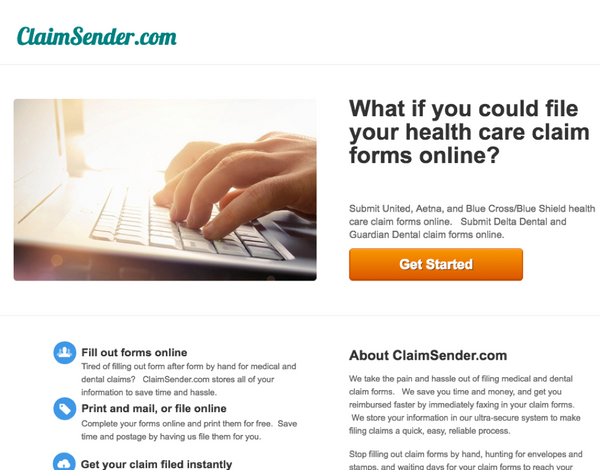 26.67% clicked the "Get Started" button, one-in-four is not bad at all.

How many potential customers indicated they would pay you money?
As the saying goes, "the proof is in the pudding" and it's pudding time. We'll measure this by looking at two things:
Unique users clicking on one of the sign up buttons
The specific sign up button they clicked
These actions tell us the person showed interest in signing up, but you can't count your money yet. The best thing to do here is to apply a reasonable conversion percentage to calculate signups.
More importantly, looking at which pricing plans people clicked on tells you a bit about what they would pay.
Using the data from Unbounce, we can see that 24% of people that hit the pricing page clicked one of our pricing buttons. Nice!

Diving into Google Analytics to look at the events reveals which pricing tiers prospects clicked on. Most clicked on our free plan (some free will convert to paid when they hit usage limits), a few clicked on the $29/mo option, and one clicked on the $9/mo plan.

The clicks on the paid plans are encouraging. The data lacks enough volume to be valid, but even this amount of data is enough to show that we have something worth further investigation.
How many potential customers are ready to buy now?
These prospects display the strongest interest in your product. Three of the nine people who clicked on the pricing buttons left their contact info for us. Not bad at all.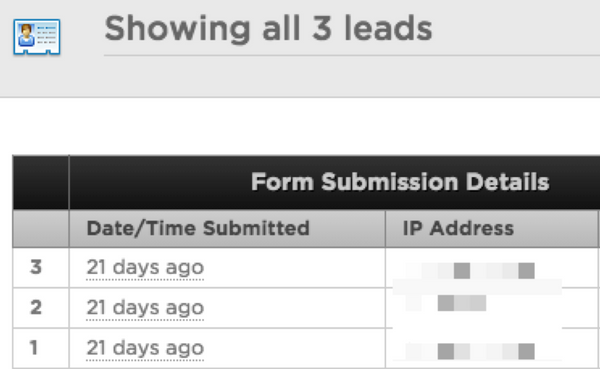 Even better, it gives you a list of prospects to email so you can rack up some easy signups when you launch.
One thing did surprise me – two of the leads were from 10-25 person healthcare companies. Perhaps there's a business-to-business product here?
Can your business be profitable? How profitable?
Time to break out the spreadsheets. I've created a simplistic one here for you to look at. Our example is a software-as-a-service (SaaS) based business that charges people a recurring fee per month.
For this type of business, we want to model the following numbers:
What we plan to spend on ads
How many customers we can acquire for that cost
How much each customer pays us per month
How many customers leave us each month
The resulting numbers give you the money you'll be left with to pay for everything else. Those things include every other cost of running the business – per unit costs (if any), all provider costs (hosting, email, rent, software, support tools, etc.), taxes, compensation . . . you get the idea.
By playing with the assumptions in the spreadsheet, we get a sense of how profitable the business can be, and what it takes to make it so.
If we use monthly ad spend of $1,500, a CPC of $1, 1% conversion, an average of $12 per month per customer, and 3% churn, we break even in month 10 and generate a positive $337 in month 12.
If we use monthly ad spend of $6,000, a CPC of $1, 1.5% conversion, and 2% churn, we break even in month 5 and generate a positive $7,563 in month 12.
Results vary DRAMATICALLY with changes to each of those numbers. It's impossible to know what they will be at this point, but we can use this template to get a sense of what's possible, and what it will take to make that happen.
What's next?
Let's Drop Everything and Build Our Site! Right Now!
No Larry, hold your horses. It's not time to build yet. Stay strong, and FIGHT THE URGE TO BUILD, BUILD, BUILD. Let me repeat myself, DO NOT BUILD ANYTHING YET.
Let's dig into the data to deduce our most intelligent next step
Here's what we learned:
We can buy plenty of clicks at a reasonable cost.
A lot more keywords, forms, categories (dental, vision, pharmacy) and providers exist than we tested.
The strong CTR on the homepage and pricing buttons show demand lurks, ready to turn into signups.
That's a solid foundation to build on. Let's make an action item to research how much more search volume exists, and note that optimization can improve our conversion rates significantly over time with testing.
Our financial model gives us a sense of how big this can be. On the low end it appears to deliver a few thousand dollars a month after many months of ramping up.
A more generous interpretation of AdWords demand and conversion rates gives us a nice solo lifestyle business.
Getting leads from small healthcare companies surprised me. Perhaps these types of companies need a solution? Mark down another research item.
This data told us that a good number of people want this problem solved, and will pay enough to make it worthwhile for us to solve.
To paraphrase my good friend and investor in Earth Class Mail, Jonathan Siegel, "the best investments have little risk and high return".
If we channel our inner Jonathan, what questions do we need to ask to reduce the risk and build confidence in a profitable business?
I want to know:
Is our core idea technically possible?
Is our core idea legally possible?
Will people really buy this? For real? For really real?
How can I get those questions answered most simply?
That's it for today, but stay tuned for our next post where we dive into the questions above.