Here at Earth Class Mail we harbor strong feelings. We love things, and we revile things. Take a gander at a few things we love, and a few things we loathe:
We love:
We loathe:
Letting our awesome customers down in any way
Making preventable mistakes
Spending time on fraudsters and other unsavory characters
Unfortunately our business attracts the occasional bad actor. These undesirables suck our team's time away from serving our great customers. These undesirables stink and we don't want them as customers. We'd rather spend time with our great customers vs. dealing with the unsavories and their like.
What to do then? A bit ago we embarked on a journey to weed out these miscreants, so we could spend more time on the customers we love. We wanted to build a system & process that would automatically and reliably:
check for potential fraudsters
follow up with them to prompt for verification
alert our customer support staff, and automate our follow up
To assist in our task, we recruited a few key players to the team. We tapped SiftScience.com for fraud detection, Zapier for workflow automation, Slack for team visibility, and Zendesk automations for automated followup.
WARNING: you may want to caffeinate before proceeding, the weeds get deep on the details.
Ok, so here's how we did it. First we tackled checking for potential fraudsters and making that visible to the team. To do that, we bolted on an API call to Sift every time someone completes an order. Sift offers a cool fraud prevention service that takes in a bunch of info and gives back a fraud probability score. The score ranges from 0-100, with 0 = no chance of fraud and 100 = certain fraudster. Once Sift returned a fraud score, we wired up a notification into our signups Slack channel. This let our team know when a likely fraudster sauntered through our doors. Here's an example: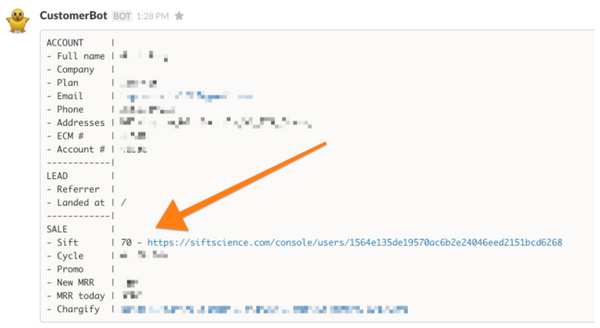 We let that run for a bit until we gained an inkling of what things meant. We followed up manually on every case that seemed suspicious. After a few weeks, we dove into the deep end of the automation pool to see how much time & effort we could save. Enter Zapier and Zendesk.
We wanted to send and automatic note to any potential bad guy. The note should let them know that we harbored suspicions of their sincerity. We also wanted to give them the chance to clear the air if our system screwed up and flagged them by mistake.
Zendesk rocks. We use it for all customer contact. We knew we wanted to craft any solution into it. That's where Zapier came in.
Using Zapier, we built a Zap (cool name huh?) that created a Zendesk ticket anytime a potential villian signed up. Here's exactly how we did it:
Our ordering app uses Postrgres as a data store
Zapier let us sniff whenever a new row appeared in our orders table

If an order arrives with a high sift score we created a ticket in Zendesk with the likely fraudster's name, email, and other info. Here's what it looks like: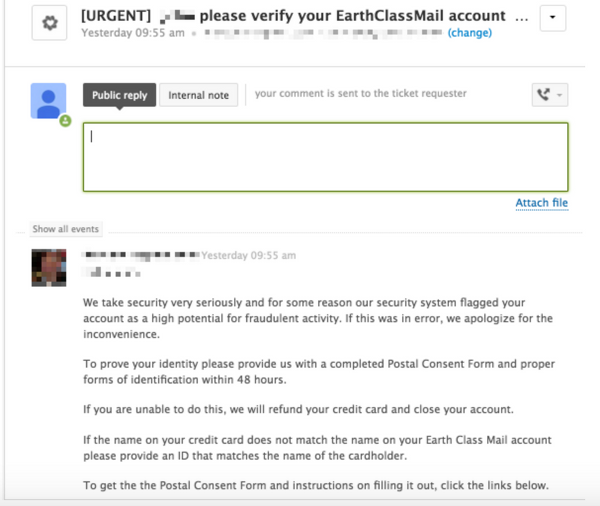 Zendesk emails the likely shady character, telling him/her that our system flagged them as potential fraud, and asks them to verify their identity. Here's what the potential villain sees: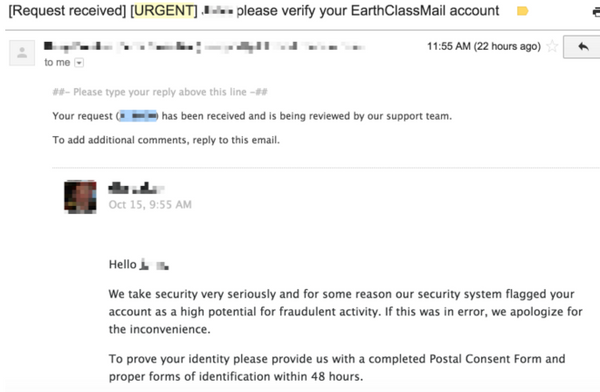 To make sure we follow up we use Zendesk's Automations. We check back in 48 hours to see if the potential shadester rectified the situation and corrected our false assumptions. If not, we fire off an action to re-open the ticket and add an internal note so our customer service team can close the account and refund any money. Take a peek: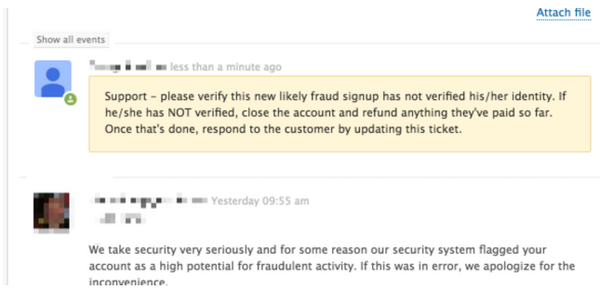 We hope this gives us more time to spend with the customers we care about. If we can weed out the troublemakers before they start using our service we'll get to do more of what we love – making our awesome customers happy.
Interested in removing the headache of dealing with your physical mail?  Give us a try.