Our customers rock. We love to share their stories, and are thrilled to introduce you to the next customer in our customer spotlight series, Robb Gardner, Feature Film Visual Effects Artist.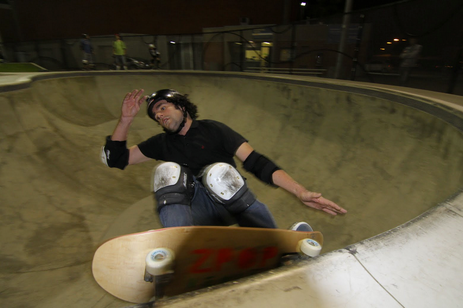 Thanks for so much for sharing your story Robb, Can you tell us a bit about yourself? What's your great adventure, and how does Earth Class Mail fit in?
I'm a Feature Film Visual Effects Artist and I have been traveling around the globe creating images for the movies. My travels have taken me to Europe, Canada, New Zealand, Brazil and California USA. My lifestyle over the last 8 years can only be described as a "Visual FX Gypsy." Because I'm on the go so much I have to keep all my mail in one centralized location where I can view it with the flip of a switch. This is where the power of Earth Class Mail comes into play. I love the service because I can be working on the Hobbit trilogy in New Zealand be reading my mail and paying my bills accordingly back in the states. It's a hassle free service that a road warrior like myself depends on.
How did you get started on your path and why?
I have been fascinated with the art of filmmaking and imaging since I was very young when I started making rudimentary "stop-motion" films with my mom's Kodak Cinespra Super8mm camera. Later I went to film school where I learned 16mm cinematography and video. My first big break came when I was awarded an internship working under a genius camera mentor.
It was him who taught me how to load and operate every Motion picture camera available at that time, including 35mm. This experience literally steered my drive and ambition, I wanted to make motion pictures my career. It's in my BLOOD. One day I discovered the Amiga graphics computer. This propelled me into the most high-end Visual FX technology and filmmaking in the world. There was no turning back and in the last 20 years I have shot numerous personal projects and I have created the imagery for countless Hollywood films and commercials as the role of Digital Artist in which I'm very grateful. My unquenchable thirst for image creation continues and I find inspiration in everything.
What's the wildest story you can share from the last few years?
I was in a helicopter hovering over a Favela in Rio de Janiero and was holding my iPhone out a small window filming when the rotor wash sucked the phone right out of my hand and it was lost.
What's the best decision you made in the last year?
The decision to take a job as Senior Lighting Technical Director on the film "Jurassic World" was the best decision I made in the last year.
Can you share a tip, trick, hack, tool or service with our readers that makes your life better, or makes your days more effective?
Carry a small moleskin notebook and a pen with you at all times and write down creative ideas as soon as they blossom in your head, you won't forget them and you will be glad later you wrote it down. Also swapbox is a pretty great new service in San Francisco for collecting your packages.
What's your best purchase for under $100 in the last year?
Google Cardboard Virtual Reality headset.
Tell us how EarthClassMail makes your life better, easier, or more enjoyable?
I have moved 15-20 times in the last 8 years for the line of business I'm in. It's such a relief knowing that I don't have to keep changing my address and I can get at my mail, anywhere at anytime.
What feature can we add or improvement can we make that would make you say, "shut the front door, I need that!"
I have all the features I need with Earth Class Mail service. It's perfect.
Thanks so much for taking the time to chat with us today, any parting words or advice for our readers?
Earth Class Mail is an indispensable service for road warriors like myself. I don't know what I did without it before! Get it.