Our customers rock. We love to share their stories, and are thrilled to introduce you to the next customer in our customer spotlight series, David Fideler. David is the owner of Concord Editorial and Design, and the creator of the blog Brainstorm Every Day.
Concord Editorial creates books for publishers in the United States, and Brainstorm Every Day helps people generate ideas and create their own business opportunities.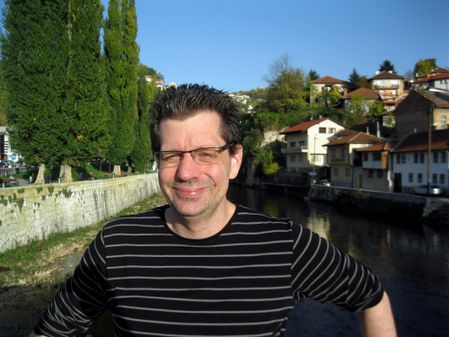 Thanks so much for sharing your story, David. Can you tell us a bit about yourself and your company? What does Concord Editorial do, and what sets you apart?
We create high-quality books, mainly for university presses. The thing that sets us apart is the quality of our work — from the design, to the editing, to the quality control processes we use to make sure every book is error-free.
How did you get started and why?
From the day I was born, I grew up around books and publishing. My father owned a textbook publishing company, which he started as a young man. Then, when I was twenty-four, I started my own publishing company which I ran for twenty years.
After that, I started Concord Editorial to create books for other publishers. I've now worked to bring well over 100 books into print, probably closer to 200.
Do you have an incredible customer success story you can share?
Not really, because all of our customers are happy with our work. That's because we guarantee total customer satisfaction. In fact, we won't deliver a project until a customer is fully satisfied with every aspect of our work.
In my view, every business should guarantee total customer satisfaction.
What's the best business decision you made in the last few years?
Five years ago I decided to move my business overseas to where I now live in Sarajevo, in southern Europe. Without question, that was my best decision. I used to be based in West Michigan, and my editors still live and work in the United States, but after visiting Sarajevo I just fell in love with the city and decided to move here.
When I started the business ten years ago I designed it to be a location-independent company, but I had no idea I'd eventually relocate overseas and even buy a home here. Book publishing is not the highest-paying field in the world, and outsourcing work to other countries has been going on for many years now. In this case, I decided to outsource myself and take advantage of the much lower cost of living here to increase my quality of life.
Can you share a tip, trick, hack, tool or service with our readers that makes you better, or makes your days more effective?
Actually, I can offer more than one. There's a resource guide available on my website, Brainstorm Every Day, that describes in-depth "The 12 Tools and Hacks I Use to Run My Business From Overseas". I included Earth Class Mail in that guide because it's one of my most important tools.
Tell us how Earth Class Mail makes you better at your job, or your company better at what it does?
Ever since I moved my business here five years ago, Earth Class Mail has been invaluable. I couldn't run my business without it. It gives me total control of all my mail at a distance, and I've never once had a single problem with the service.
The most important feature of Earth Class Mail, for me, is the automatic check deposit feature. It works perfectly. Based on the research I did before leaving the United States, Earth Class Mail is the only company that really has this down as a complete, affordable service that is totally automated.
Whenever I get an envelope containing a check, the check is scanned, automatically identified as a check by the software, and automatically deposited into my business's bank account. It just works flawlessly, each and every time.
Another feature that is very helpful is the cloud storage of everything you receive in the mail. After my documents are scanned and my checks are deposited I have Earth Class Mail recycle the original hardcopy documents, but keep all the PDF scans online in cloud storage until I have time to print them out and process them. I often get very busy with work so while I have my checks deposited immediately, I can wait even a few months to update my invoicing database, whenever I have the time.
What feature can we add or improvement can we make that would make you say, "shut the front door, I need that!" ?
For the life of me, I can't think of anything. Earth Class Mail fully meets my needs, it lets you work anywhere and still have a U.S.-based company.
Thanks so much for taking the time to chat with us today, any parting words or advice for our readers?
Yes — I truly believe we are living in the best time ever for anyone to create a location-independent business. I feel so strongly about this that I'm now creating an online course to help people who want to start their own business and, most importantly, do the marketing so they can get great clients no matter where they live.
When I started my book design business ten years ago I wanted to be able to work with clients anywhere in the United States, because at the time the economy was just so terrible where I lived in West Michigan. I had no idea that I'd one day move to another country, I just wanted to be able to work with anyone, anywhere. That, in my mind, was the best way to be financially secure.
So if anyone is reading this and contemplating something similar, I want to encourage them and let them know that yes, it really is possible.