Jump to any section…
Building a Software-as-a-Service (SaaS) business, just like many other B2B verticals, is all about leads. Yes, Monthly Recurring Revenue (MRR) is the central measure for a business like ours, but it's a lagging indicator and can be a red herring when used to predict future growth.
Here's an example. You've been tracking two key performance indicators (KPI) for your business, MRR and Lead Volume. Let's say you look at the last 6 months of MRR and it's totally flat. It would be reasonable to assume that next month will be flat too.
Now let's say you take a look at leads, and they jumped 50% from last month. If you know how long it will take you to get through those leads, and how many leads convert to sales, you can estimate that impact to your business in terms of MRR growth.
Same goes if your lead volume went down, or stayed steady. What's most important is, if you start looking at leads as the growth indicator instead of MRR then you can build strategy around lead generation that ties directly back to MRR growth.
That's exactly what we did, here's how.
Podcast Crash Course
Get a 15 minute crash course from the B2B Growth Show with James Carbary. Listen to Mike Beck, Head of Growth & Marketing at Earth Class Mail, talk about getting started with Twitter and Facebook lead generation campaigns.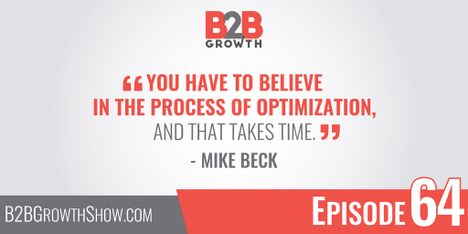 The Setup
Facebook and Twitter are often overlooked by small B2B businesses, from a paid advertising perspective.
It could be because they assume these networks are mostly recreational or because, at least in our experience, they aren't particularly effective at generating revenue directly.
What's really important to understand, especially for experienced PPC operators, is that the advertising model is very different.
Advertisers on networks like AdWords, Bing and the like generate the majority of their results from ads in Search Engine Results Pages (SERPs).
SERPs are easy to target because someone goes into their browser and searches for something very specific, thereby providing the advertiser with a clear and explicit intent for ad targeting.
Here's a specific example for "po box in washington" on Google. We know exactly what the user is looking for and what to write in the ad.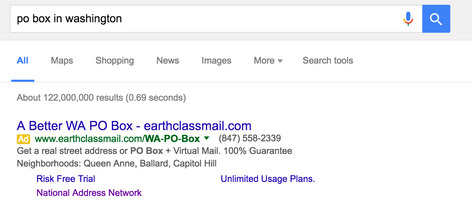 On Facebook and Twitter, you are not targeting search intent.
Rather you are finding cohorts of users that are likely to be interested in your product. You then have to tailor messaging, including visuals, that resonate with the audience and convince them to take a step that they had no explicit intention of taking.
It's a lot like display advertising, but on steroids. Lot's of steroids, like the kind that would even make the Russian olympic program say, "Wow, that's a lot of f***ing steroids"!
Why Ads On Facebook And Twitter Are Better Than Display
Traditionally, display ads have been poor performing media. They have some of the lowest expectations for click-through rate (CTR) and conversion rate (CVR) of any digital medium.
That's why you need a lot of volume to even experiment with a campaign, much less see meaningful results.
With Facebook and Twitter there are a few important differentiators:
A plethora of reliable demographic targeting parameters.
Meaningful control over ad serving.
Unparalleled remarketing features.
Robust, easy to deploy ad formats.
Native lead generation.
These differences are key. They allow you to get useful data without needing to carpet bomb a broad audience with ads.
You can deploy campaigns faster, and iterate on them faster. You can bypass the need for custom landing pages entirely with in-feed forms.
That's just a few of the immediate benefits. Moving on…
Finding Your Audience
Who's going to buy what you're selling? Answering this question is going to involve two things, data and money. Here's what we looked at for the data part:
Who's coming to our site?
Who are our current customers?
Who are the influencers in our niche?
Who's engaging with our ads on other networks?
Bonus Content: Have a new product or business idea and want to test market demand? Read this first…
Who's coming to our site?
To figure this out you're going to need to setup some tracking. Both Facebook and Twitter offer proprietary tracking pixels that will collect data on the visitors to your site and group them into cohorts that you can define.
We wanted to know:
All visitors to the site
Visitors that submitted a lead form
Visitors that purchased
If you don't have resources, or just have limited technical skills, then start with "all visitors". This will be valuable regardless.
Segmenting the visitors by how far they made it in the funnel was important to us for targeting purposes, but it's not critical to get started with this.
Who are our current customers?
This is exactly what it sounds like. We pulled a very large CSV file of all of our current and even canceled customers. We then segmented that list by customer status, again for targeting purposes, and pulled out the emails and phone numbers.
Those two identifiers are all you need, and frankly email is enough most of the time. It's much more likely to be matched to an account than a phone number is. If you have both then use them, if not then just the email will work fine.
Who are the influencers in our niche?
We already have a good pulse on the industry, but there aren't a ton of people excited to talk about virtual mail. A much sexier and equally aligned niche is startup and SMB digital marketing.
There are lots of recognizable names that we can look to for targeting users down the line like: Noah Kagan, Gary Vaynerchuk, Neil Patel, and Tim Ferriss just to name a few.
You might think, "why does that matter"? Well, Mr. Question McQuestionFace, you can actually target fans and followers of other profiles on these networks!
If you don't know who the influencers are, you can cheat a little with a tool like BuzzSumo. Search a topic that's relevant, then dig in to the top sharers for the most popular content.
There's a free trial, so if you plan ahead you can get all you need without any added expense.

Who's engaging with our ads on other networks?
If you're already running PPC ads on AdWords, Bing and the like then you have data to lean on. We're not going to deep dive into website analytics for this, sorry that's for another series.
Simply put, we used Google Analytics and applied segmentation to our audience demographics so that we could see what the PPC visitors looked like from that perspective.
You can do this with pretty much any website tracking application on the market, Google Analytics is the most popular and it's free.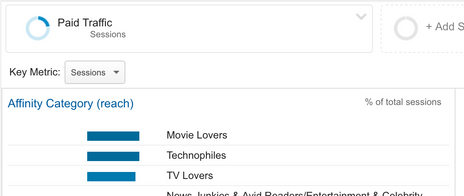 We figured out very quickly that our audience leaned heavily Male, older, and within a more affluent income bracket. We also learned some things about their interest and affinity categories that helped later on in targeting.
Finding Your Message
This part is tricky. If you've never run ads before, you're going to burn some money getting a baseline message. You should lean on every piece of marketing data you have to come up with a test set.
Bonus Content: See how we optimized the landing pages on our site and squeezed more revenue without any more traffic.
We looked at the best performing PPC ads, the best email campaign messaging, and the top landing pages on our site.
Here are a couple of easy tactics you can use if you feel like you have nothing to start from:
Survey your existing customers. Just ask them "How would you describe our service to a friend?", or "Can you explain the value you get from our product?". Make sure to offer an incentive if you want a good sample set, and stick to open-ended questions.
There are free tools like Wufoo and Survey Monkey that can help collect info.
Search on Google for keywords related to your business and click on the ads. This will give you insight into what advertisers are using in their ads and, more importantly, on landing pages.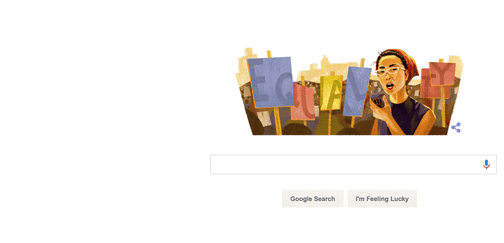 Nailing down the imagery
More important than the marketing copy are the visuals you choose. We know, from past surveys and feedback, that we have two primary demographics: 1) nomadic professionals, and 2) SMBs that hate dealing with paper mail.
To start, we narrowed down two images that we felt represented the main value proposition to each segment. Then we added in a few stock photos we already had laying around from previous design work.

To start, two images and several variations of copy are plenty to test for your first run. You will need to create more as you optimize campaigns and if you have stock photos you can repurpose, even better.
Another great feature of these networks is that you don't need a ton of design work for the ads since you have plenty of space to write copy around the visual.
Below is one of our ads with just a stock photo and marketing copy.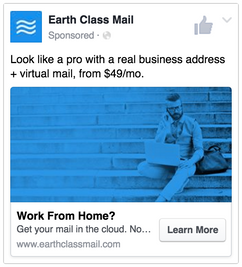 You will very quickly see which images perform better than others, and the difference is usually clear. However, you want to remain data driven so you should rely on testing for statistical significance in your results.
Tools like the Get Data Driven calculator from Kissmetrics make it exceedingly easy.
Setting The Mood With Landing Pages
Ads and targeting are half the battle, you will need to optimize the other half as well. You can have fantastic ad performance and terrible conversion because your landing pages are being neglected.
Now, the beauty of these networks is that you don't necessarily need to start with landing pages at all. Native lead collection means you just have to figure out audience and messaging to start.
A few big differences between native lead forms on these networks:
Twitter
Lead forms collect email addresses only. They are high quality though, because a lead can only submit the email on their account.
You pay per lead, so impression volume is irrelevant from a cost perspective – especially in the beginning.
Depending on the audience type you select, your reach may be throttled by Twitter until they collect enough data on campaign relevance.
Facebook
Lead forms have many fields, and are totally customizable.
You pay cost-per-mille (CPM), so if you get a ton of impressions it will cost you even if you don't get leads.
The full reach of your audience is available immediately, assuming your budget allows for it.
Optimizing your landing page can be pretty easy
Honestly, we're not making light of a difficult task here. We use Unbounce, it's a powerful tool that lets us test outside of the walls of our main site.
They also have built-in responsive templates, dynamic text substitution, and a lot of cool integrations. If you are really trying to bootstrap, then you can always just create a custom page on your blog with WordPress or whatever your blog service is.
The least work, but least flexible, is to choose an existing landing page that works well with the messaging in your ads.
Most importantly, you want to preserve context from the ad to the page. The tone should be the same, the fonts should be the same, imagery should be related, and the page should really extend the ad's message while closing with a strong call-to-action (CTA).
In the beginning, with lower volume, you want to test big changes to see if there is meaningful impact. Changing one line of copy, or the text on a CTA button isn't likely to yield significant results (remember, we're looking for statistical significance with our optimization).
We had three very specific pages we wanted to test: short form, long sales letter, and video supported.

As you can tell each page is very different in layout and focus, but they all tie-in to the ads that are being served. You don't need to be this aggressive, but the more effort you put in the more reward you get out.
Putting It All Together
The first step in setting up your campaigns, on both networks, is going to be your audience. You will want to upload CSVs of your existing customers and any other prospect contact information you have.
Make sure that the tracking you implemented for remarketing is working, and that the audience is large enough to market to. For low traffic sites, this may take a while so you are going to lean on building new audiences in the beginning.
Why existing customer lists are valuable
You can use existing customers for a few really beneficial purposes:
A list of active customers can be used to create Lookalike audiences of similar users for targeting.
A list of canceled customers can be used to try to win them back with special offers.
The combined lists can be used to exclude these users from seeing your ads, and potentially wasting money.
The same goes for users in your tracking cohorts, not only can you retarget them, but you can create Lookalike audiences from those users as well.
On Facebook specifically the Lookalike audiences are really large, no less than 2 million potential users. That's way to big, so this is where all of that other data comes in handy.
You will want to narrow that by using demographic data. In our case we excluded gender, geo, and age groups. Similarly, you will want to narrow by interest and affinity data where it makes sense.
An example audience might look something like this: Lookalikes of our current customers, Male, 25-55 years old, on the West coast of the U.S., that also like Tim Ferriss.
You will want to narrow, within reason, to an audience that is less than 100,000 in potential reach to start. This will be easier on Twitter than Facebook. It's a unique challenge, because you don't want to accidentally filter out a big cohort of good prospects.
If you're skipping the landing page
Your next step is the imagery and copy for the lead generation ad. Take what you worked on and set a couple of variations of each visual.
You should test:
Promotional messaging and special offers
Different CTA language, like: Free Trial, Learn More, Buy Now
Value propositions
On Facebook, you should have multiple variations of the form with more or less fields
For those using a landing page
The most important thing you can do here is to make sure you are collecting data. Without it your efforts aren't valuable.
If you're not using a landing page service like Unbounce, then add UTM tracking parameters to all of your links. Set a proper tracking taxonomy so you can dig into campaigns later and know what is going on.
If you're using Unbounce, integrate all of the tracking pixels directly. They have great help content on this, so it's actually pretty easy. Similarly, here is what you should be testing on any landing page:
Form length and position
Quantity of supporting content
CTA language
Value propositions
Let It Fly
You've got all of your assets in place, now it's time to see it work. You will need to spend some money, and in the beginning it may feel like you aren't seeing results.
Give. It. Time.
This is a process, and optimization takes time. Pull data from your campaigns regularly, not just in the canned reports but that actual raw CSV files and segment it yourself.
You will learn things you never new you could learn. Take that knowledge, and build new campaigns. Then learn some more.
A safe budget expectation is at least $1000 to learn something from your first run and hopefully collect leads. It will take some multiple of that to optimize the campaigns further, find new audiences, and grow the channel.
This process helped us cut our lead cost by 50%, and in some cases generates leads at one-fifth the cost of what we expect to pay. You can do it too.