Doug Breaker here, CEO of Earth Class Mail, back for round 2 of our adventure on how to launch a profitable business.
Last time we talked about the common error many founders make – read here and don't make the same mistake.
What was Step 1 again?
You're minding your own business when BAM, the-best-idea-ever-created slams into your brain. You've got it! You're rich! Step 1 is the idea. Congratulations, you've reached the point almost everyone on earth has.
I hate to break it to you, but your idea is worth a lukewarm cup of coffee. Now let's talk about what to do with that idea.
The Setup
Before we jump into the how, you're probably wondering what grand inspiration slammed into our heads. Well…
I loathe how insurance companies force you to print out their forms, write out every detail in pen, sign them, and mail (gasp!) their claim forms to get reimbursed.
Do you like health and dental insurance companies? I don't. I rank them right up there with putrid cabbage and elevator farts.
Hmm…I wonder if they make that process painful on purpose? I harbor a sneaking suspicion that they make it just annoying enough so a certain number of people won't file claims.
Do I have proof? Nope. Am I annoyed enough for my inner developer to want to build an app and stick it to them? You bet!
Here's my idea: a website that makes it super easy to submit your medical and dental claims online.
Why print out the form, fill it out by hand, stuff it in an envelope, find a stamp, and drop it in the mailbox? That's a huge hassle.
Often you can't find stamps, your printer's out of ink, or you decide to watch Turd Ferguson videos on Hulu instead, and as a result you never file your claims.
What if you could enter your information just once, and make a few clicks to file new claims? I'm betting you would file your claims faster, file more of them, and appreciate it when you get reimbursed faster.
Wait, it gets better. Did you know that most insurance companies accept claims by fax? Perfect, because we can send faxes online so you can submit your claim forms immediately, nothing to mail.
So that's the idea, let's fix insurance claims and make people's lives better.
Finding The First Customers
Enough about us, let's get back to you. What do you do right after your idea hits? Do NOT do any of the following (I am guilty of all):
Start building anything
File a patent
Spend weeks talking to potential partners
Write a business plan and begin courting investors
No no no, do not do anything on that list. You're wasting time and indulging yourself if you do.
Instead, your sole mission is to find out if customers will pay you for what you're offering.
Setting Up Your Test
The ONLY way to find out if your idea has any demand is to let potential customers tell you. The fastest, cheapest, and easiest way I know to do that is to throw up a landing page, point some ads to it, and see how prospects respond.
Go online and do some research
You want to answer a few questions in this step:
How many people search on terms related to your idea (i.e. market size)?
How many of those people can you convince to visit your page (i.e. does your product solve the problem)?
How much do you have to spend to get them to visit your page (i.e. what will it cost to acquire leads)?
How many of them convert (i.e. show interest by submitting their contact info)?
This isn't an exact science, but it gives you enough data to get a sense of the interest and appetite for your idea.
Make sure it passes the initial demand test
Sign up for a free Google Adwords account. If you do some searching, you might be able to find a coupon that will give you an extra $100 in spend for free.
Once you're logged in to the account, navigate to Tools > Keyword Planner. Think of every possible search term people could type into Google. Better yet, do a couple searches yourself and see what comes up in the auto-complete recommendations for even more ideas.
Once you have your search terms set go to the "Get search volume data and trends" section in the Keyword Planner, then drop in all those search terms and submit. Here's our example: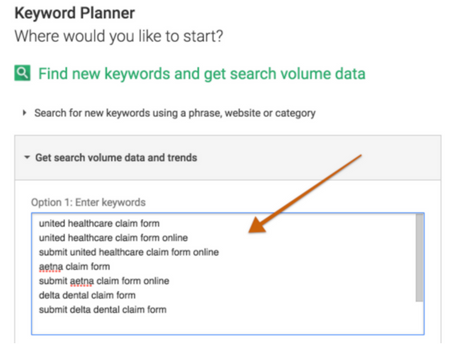 Take a look at the projected search volumes and suggested bids. Keep brainstorming to clean up the terms until you get a good set that maximizes searches, and minimizes your suggested bids.
I recommend forcing yourself to modify your list at least 5 times. Try ultra specific terms. Try wacky terms. The point is, keep trying until you get a good set of terms.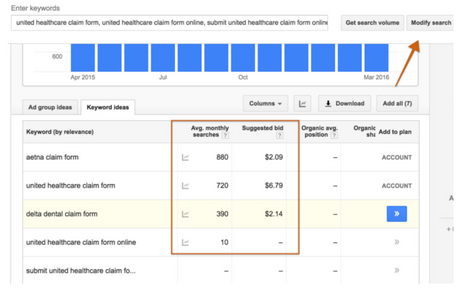 If you can't find a grouping of search terms that generates at least a few hundred searches per month, you may want to stop and reconsider. It is important to note that the volume in here is not exact, and usually underestimates searches by some multiple.
Building a landing page
Great, you've done some research and there is demand. Don't go measuring for blinds in your new mansion yet! Your next step is creating a landing page for your idea.
You need to be able to sell your idea in one page. Distill everything you imagine it being down to a single value proposition that you can verbalize simply and succinctly.
If you can't explain it easily, you can't sell it easily.
Get a domain name that prospects will believe. Services like InstantDomainSearch.com can help you find a reasonable domain for your idea. We aren't affiliated in any way, they just have a great product.
Don't stress about the exact domain at this point, just grab something reasonable. Whatever you do, DO NOT buy an expensive domain yet.
Find an available one and shell out the $12. WARNING – I recommend you register your domain somewhere other than Google Domains, as you'll need domain forwarding to setup the page properly. I tend to use GoDaddy and NameCheap a lot.
Sign up for a free trial at Unbounce.com, choose a responsive template, and whip up your masterpiece of a landing page. Channel your inner Alec Baldwin in Glengarry Glen Ross and sell, sell, sell!
I recommend creating two separate pages: 1) a primary landing page, and 2) a pricing page. The aim with this strategy is to test both low-friction demand, and early-adopter demand in one experiment.
The primary landing page should be the main sales page, and what you're looking for here is how many visitors click through to the pricing page. You can track that directly in Unbounce, and the results are considered your low-friction demand as these visitors show interest when the barrier to learn more is low.
On the pricing page, you will want to embed a lead form that collects visitor information. This is how you measure the early-adopter demand since they are willing to give you contact information, with a higher level of friction it's likely these leads could become customers.
A few tips:
Your page should pass the "eye test" – meaning a regular joe should be reasonably convinced it's for a real company. It's not a high bar to clear.
Force yourself to set pricing. This gives two benefits: 1) it forces you to think of what to charge, and 2) it gives you more valid results.
Ask a few people to look at your landing pages and explain their interpretation of the product to you. This will put a check on your messaging and help you catch any glaring issues that you've become numb to.
Sign up for a free Google Analytics account and integrate it with your Unbounce page. Here's a quick tutorial.
For example, see what we built over at claimsender.com.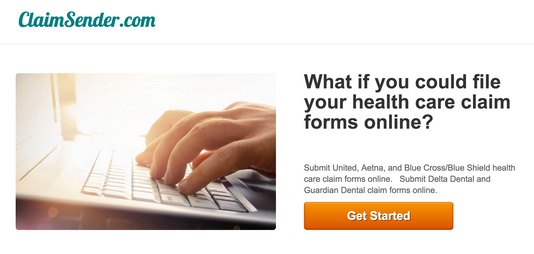 Bonus tips:
Make sure your root domain and subdomain work, or Google may not let your ads run.
Google may ask you to put a business address on your landing page. Luckily, I know just the company to recommend for that.
Done is better than perfect. The point is to test your idea with real people vs. obsessing over minutia.
Once your landing page gets to the "it's not completely horrible" state, STOP working on it.
Creating ads
Now that you're armed with a good terms list and shiny new landing page it's time to create some ads!
Go back to that search terms list you built and save your keywords to a new campaign. Set your default bid and daily budget, create a new ad group and click "Create new ads for your ad group".
Bids, budgets, and AdWords campaign structure are a nuanced field with no shortage of opinions on the topic. This is not an AdWords tutorial, but AdWords is one of the best documented platforms on the planet so there are plenty of resources.
You will want to let your ads run for at least a week to allow for any day-of-week fluctuations, so set your daily budget appropriately. Make sure you understand how AdWords budgets work too.
Channel your inner Don Draper and whip up some ads! Create at least a handful, trying out different headlines and different ad text. You want to find out the terms and hooks your target audience responds to.
A great place to start for this is to look at ads from competitors on similar terms. If your idea is so unique that there's no ad competition, search for terms that will bring up ads for big brands and see how they do it.

Save your ads and wait for Google to approve everything.
Verify Tracking and Wait
While Google takes its time approving your ads, run through your landing page and make sure all of your tracking works. You may have done this already, but do it now if you haven't. Make sure the following works:
Unbounce visit & conversion tracking (go to your live page, click the CTAs, submit some leads)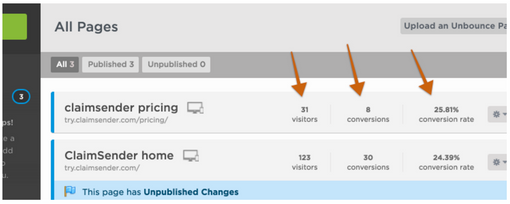 Unbounce lead tracking (submit some leads)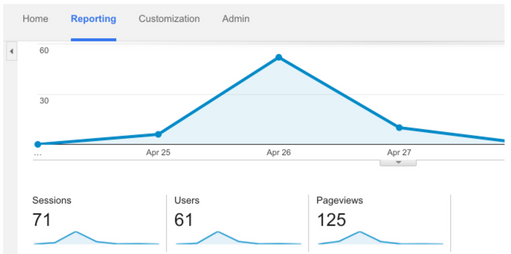 Once you've confirmed that all the tracking works, sit back and be patient. In our next post we'll talk about how to evaluate the data and what to do next. For now grab a coffee, pull up a chair, and watch the show!