We're really excited to announce CheckStream, a new service that makes depositing checks super simple.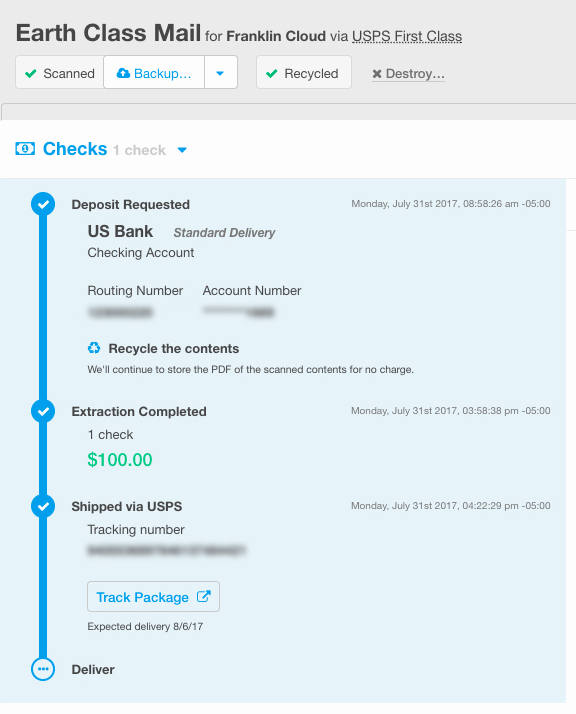 So many of our customers get checks in the mail, literally millions of dollars worth each month.
In many senses it's the most important mail you can get, and yet there was no great way to deal with them before.
Until now. Unlike traditional solutions, CheckStream is designed to work for any business – if you have a bank account, then you qualify.
There's no credit check, no deposit limits, and none of the typical restrictions you get with remote deposit or lockbox solutions from the banks.
The solutions on the market today are not flexible, place a lot of burden on employees, don't natively integrate with cloud services, and often don't support small and medium businesses. CheckStream fixes those problems. – Doug Breaker, CEO at Earth Class Mail
We set out to build something that would work across a broad spectrum of business needs, from high check volume businesses to low-volume and high-dollar transactions. Importantly, we didn't want to stop at just the deposit, we wanted to make the entire transaction workflow better.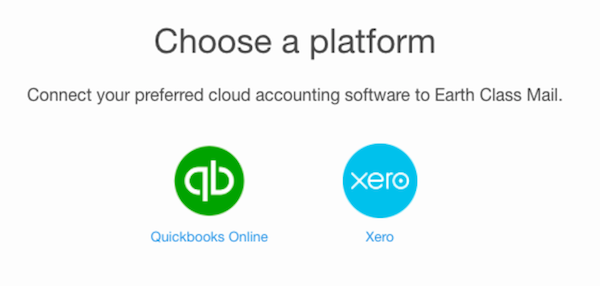 Native QuickBooks Online and Xero integrations make accounting reconciliation a breeze. Record transactions directly to your accounting software, so no more spreadsheets to track all the checks in your deposit.
Plus, CheckStream makes all the good things about receiving checks even better. Every deposit includes a complete content scan, so any attachments and payment coupons get retained.
CheckStream makes depositing checks easy … We used to let checks pile up, then walk them to our bank … It saves us hours every month and gets money in our account faster. – Nick Kocinski, CFO at YCharts.com
Digital copies can be stored forever in the Earth Class Mail cloud, or sync everything to your favorite cloud storage service.
CheckStream is better because it just works
NO Hardware – that means no scanner in the office, and no maintenance.
NO Contract – month-to-month billing, just like our business mail plans.
NO Credit Check – that's right, if you have a bank account then you qualify.
NO Deposit Limits – any amount, any time.
How does CheckStream compare?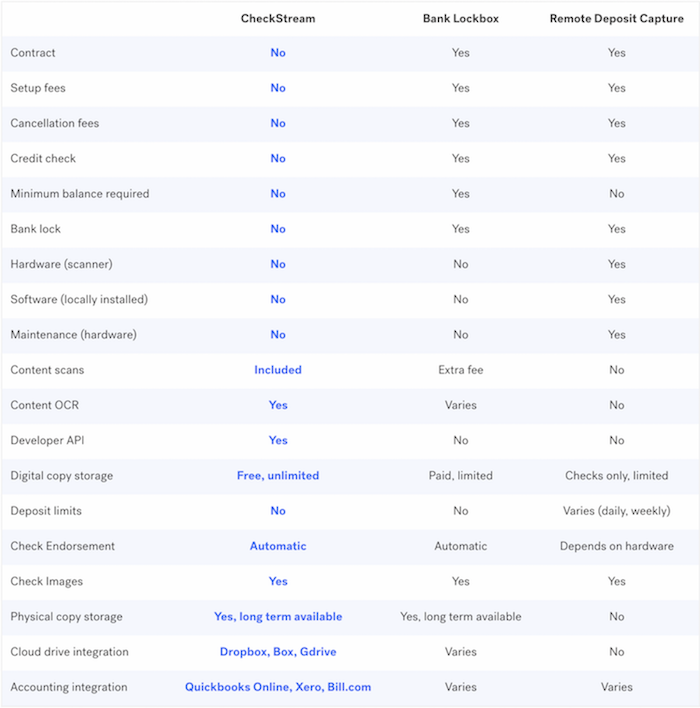 You can learn more about CheckStream here, or browse dedicated check deposit plans here.
Already an Earth Class Mail customer? Contact our Support Team to learn how you can take advantage of CheckStream for your business.